The 50/50 Draw Is Back!
Throw your name in the hat for a great chance to win! Fifty percent of the draw goes to you and the other half goes towards funding our equipment and jerseys for the players we support. We had a great win last year of $332.50! Thank you for taking the time and please join the fun!
Single Ticket $5
Three Tickets $10
Seven Tickets $15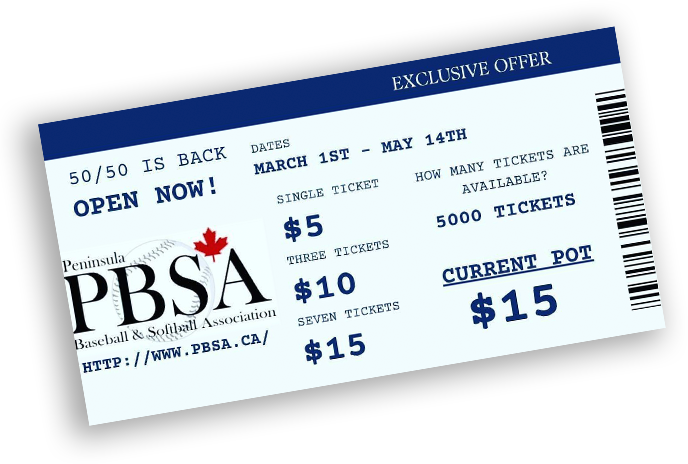 ---
Are you interested in coaching with PBSA? Please complete our registration for baseball or softball!
The Peninsula Baseball and Softball Association is very excited to announce the return of Anthony Pluta as Head Coach for the club's baseball and softball programs. This will further solidify the club's long standing mantra of 'coaching the coaches'. Among other things, Anthony will be instructing pre-season coaching clinics and then will be available to all our coaches for follow up instruction as the season progresses. Further, Anthony will be tasked with facilitating player clinics for our PBSA membership throughout the year. Please see Anthony's career bio here for more information on his outstanding qualifications.
Want to book the clubhouse? Please review the calendar and email the registrar to book a time!

Kidsport is a national non-profit organization that provides financial assistance for children who want to play sports. For additional information please visit the Kidsport website at http://www.kidsportcanada.ca/british-columbia/and apply for assistance. Once Kidsport has confirmed your application please send an email to the registrar at registrar.peninsulaball@gmail.com and she will provide you with a promo code that can be applied to your registration.